Best Credit/Debit Cards to use Overseas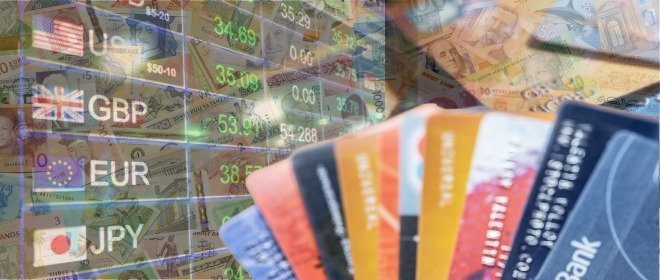 Specifically, this is a combination of research and what we are actually doing. The research after filtering out posts with vested interests returns the following:
Top 14 Travel Money Cards for Australians Going Overseas in 2022 (smoney.com.au)
2021 Travel Credit and Debit Card Star Ratings | Canstar
Best Travel Debit Cards for Overseas | Canstar
All of the considerations are discussed in the links above, but for us it was about avoiding transaction fees on international amounts and being able to withdraw from an ATM anywhere in the world without a fee.
We use a debit card with a backup debit card and a credit card which we organised mainly for the travel insurance. We organised periodic transfers from our main accounts where salary goes into the card we use overseas, so the card we carry with us overseas, which is a debit card, is not loaded with too much cash at any one time.
So what do we use? The ING everyday debit visa card. You don't have to be overseas to take advantage of it – buying online with foreign currency also can attract exchange rate fees… So although I use Paypal, I link it to the ING debit card to get buyer protection from Paypal without foreign currency transaction fees.
Do we get the best currency conversion rate? Probably not and this is where cards like Wise and Revolut might have an edge. I had a quick look at their offerings while writing this and decided that we were still comfortable with the ING solution.
Signing up for a credit card with comprehensive travel insurance was done just for that and as a result the card which does have generous travel points available if purchases are made within certain time frames, was purchased for the insurance. Two points on the insurance policies – READ THEM and make sure they include COVID cover and there will probably be a requirement to purchase part of your travel expenses (flights or accommodation) for the journey you want the insurance to cover. For our card the requirement was $500. With flights between Darwin and Melbourne sometimes reaching 800 dollars one way, we probably won't have a problem reaching that requirement.
A dollar saved is a dollar earned (which can be spent on great food in Latin America) – so by reducing the fees we pay to the banks, hopefully, we will have a few more pesos and reals to spend locally.
Which Currency, Which Country?
(Argentine Peso), Bolivia (Bolivian Boliviano), Brazil (Brazilian Real), Chile (Chilean Peso), Columbia (Columbian Peso), Ecuador (US Dollar), Guyana (Guyanese Dollar), Paraguay (Paraguayan Guaraní), Peru (Peruvian Nuevo Sol), Suriname (Surinamese Dollar), Uruguay (Uruguayan Peso), Venezuela (Venezuelan Bolivar)
| Country | Currency |
| --- | --- |
| Chile | Peso |
| Bolivia | Boliviano |
| Peru | Peruvian Nuevo Sol |
| Ecuador | US Dollar |
| Columbia | Peso |
| Cuba | Peso |
| Brazil | Real |
| Uruguay | Peso |
| Argentina | Peso |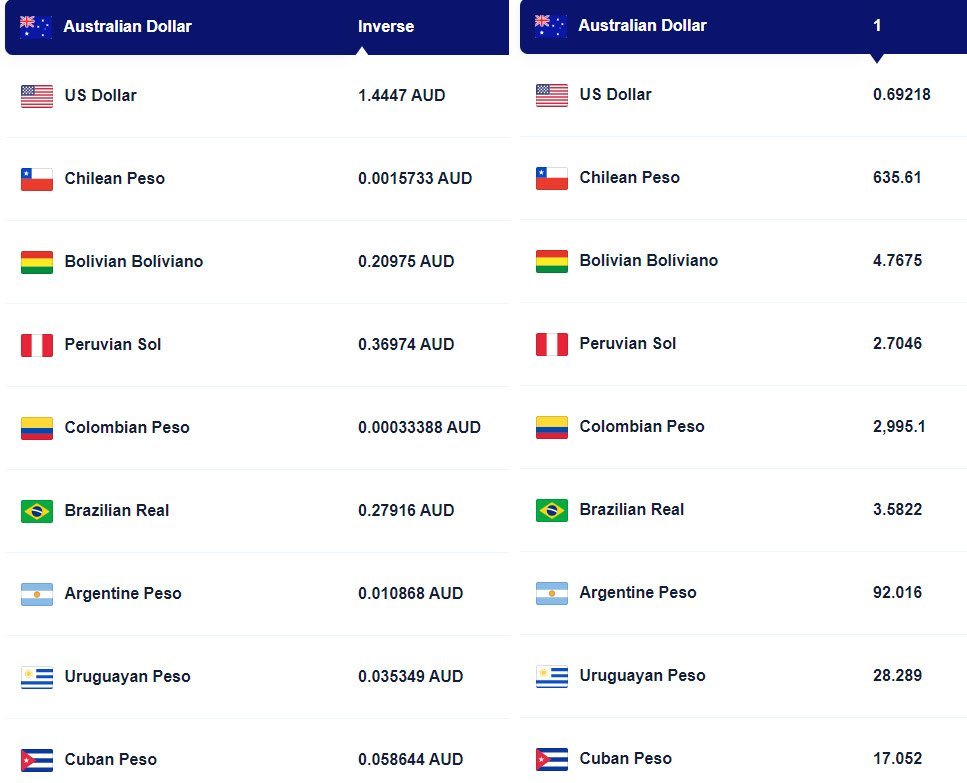 This is just a capture of the rates as of August 6, 2022.